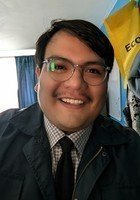 Cesar
Certified Tutor
I am a veteran tutor of 8 years who is also fluent in Spanish. I've had the opportunity to work with students at the Middle School, High School and College level.

My goal as a tutor is to help students not only understand the concepts but to also develop critical thinking and organizational skills that will help them achieve individual success. I possess a friendly, yet professional demeanor, that allows me to connect with students and promotes confidence in their academic work.

Currently, I am applying to a Master's in History program with the National Autonomous University of Mexico in Mexico City. I received a Bachelor of Arts in History, with minors in Political Science, Peace Studies and International Studies, from Graceland University. It was as an undergrad that I first began tutoring at the start of my sophomore year. I led tutoring sessions ranging from individual 1 on 1 help, to groups of up to 30 students. Some of the subjects that I was able to tutor for included, US History Survey courses, US Foreign Relations, World Civilizations, Political Science and International Studies. The most important aspect of these tutoring sessions was in helping students with the research, formatting and editing process that went into crafting a well written historical essay. There was also the weekly review of important vocabulary terms and preparation for essay questions that could appear on an exam. I would also try to bookend each session with basic study tips as well as organizational and time management skills. As a student athlete myself, I was able to empathize with those who were a part of other extracurricular activities. Apart from being a tutor I was a faculty assistant and could therefore follow up with the progress of individual students.

After graduating I was able to apply the skills I learned as a tutor to other teaching and tutoring positions. Some of these positions included Citizenship classes at a non-profit, working in the ELL department of a Middle School and as an individual tutor for students at the High School and College levels. My time working for an ELL program allowed me to sharpen my skills as a bilingual tutor. I learned how to translate educational materials in a way that advanced the students reading, writing and verbal English Language skills.

No matter the level of education, I have always had a passion for teaching. My hope for every student is that by the end of each tutoring session, they will have gained a better understanding of the material and an overall confidence in their academic abilities. I am excited at the prospect of meeting new students and look forward to working with you.

Hobbies
My interests and hobbies can best be summarized as an constant attempt to become an amateur Hobbit. I enjoy reading, writing, cooking, watching my favorite sports teams and am an avid movie fan. That being said I also love to travel and am always on the lookout for my next adventure.
Tutoring Subjects
6th Grade AP History
Ancient History
AP History
AP US History
College American History
College Level American History
High School Level American History
High School US History
Media History
Middle School History
Middle School Reading
Middle School Science
Political History
Texas History
US Constitutional History