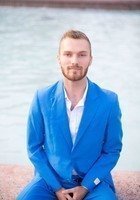 George Allan
Certified Tutor
I graduated from the University of Texas at Austin with a (triple major) Bachelor's of Arts in Sustainability, Geography, and Urban Studies with a certificate in Spanish.
My teaching philosophy is "Practice makes progress" & "failure is necessary for success." Personal progress is more important than a score because it's in building confidence through practice that students better succeed. Furthermore, as perfection is unattainable, failure teaches us (again and again) that success is built through many mistakes. One quote I like from my studies is "practice until you can't get it wrong, not until you get it right."
Although I teach a variety of subjects, my favorite subjects to tutor are writing and Spanish because those are subjects I love understanding the complexities of and playing with.
I have some informal experience working one-on-one and in small groups with students. I'm passionate about helping students because I can relate on a very personal and recent level of needing even just some extra one-on-one help, especially with learning a second language. Providing this service and seeing a student's growth is also very rewarding.
My tutoring style is laid-back and multi-approach based, because students don't need anymore pressure on their shoulders and I haven't met a person yet that learns the same way as someone else.
Hobbies
Rock Climbing Hiking Biking Yoga Drumming Writing Song & Dance Philosophy Permaculture
Tutoring Subjects
Conversational Spanish
Spanish 1