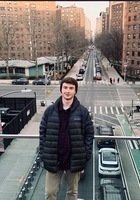 Michael
Certified Tutor
I am currently pursuing a bachelors degree in Aerospace Engineering at the Rensselaer Polytechnic Institute. I am most passionate about math and physics because they are difficult subjects and challenge me to push myself to think critically and analytically. I hope to use the skills I have learned throughout high school and college to help you achieve your academic goals.
Test Scores
SAT Composite (1600 scale): 1430
SAT Math: 770
AP Chemistry: 4
AP Calculus AB: 5
AP Statistics: 4
AP Physics C: Mechanics: 4
AP US History: 5
AP European History: 5
AP Microeconomics: 4
SAT Subject Test in Chemistry: 680
Hobbies
In my spare time I love to play tennis with my friends, listen to music, and play my saxophone.
Tutoring Subjects
AP Physics C: Electricity and Magnetism
AP Physics C: Mechanics