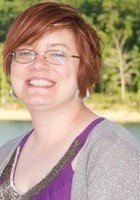 Misty
Certified Tutor
My foremost goal as a teacher is to provide my students with learning opportunities in which they can witness the growth of their own cognitive skills. I have witnessed, and it is my own experience as a learner, that many students are simply not sated with just coasting through the material they are expected to acquire. While it is important that students gain fundamental knowledge of course materials and be able to demonstrate this knowledge, they should also benefit from a classroom experience in which they leave the course feeling more demonstrably connected with the university system itself. As a graduate of a small liberal arts college, I understand the link between a student's relationship with his or her learning environment and that student's subsequent success in the world at large. It is simply not enough to know the material for testing purposes. Learners need to experience active roles with the academic community in order to fully utilize the knowledge we, their teachers, have given them.

As an educator, I have noticed that many students arrive at the university setting already feeling defeated because they have been labeled as unsuccessful learners. Therefore, I enjoy empowering students with opportunities to think of themselves as successful learners, in part, by helping them connect with their classroom environment and thus, the university system itself. In helping students feel connected to their learning environment whether that environment is traditional or virtual I know they will better prepared to meet the future challenges that face them.

My work as both a tutor and a teacher of students with learning differences has taught me that there are as many different ways of teaching as there are of learning. As a classroom instructor, I use several teaching styles such as project-based learning to accommodate students with different learning abilities. I am always looking for new and interesting ways to present concepts to student and, even more importantly, I am always open to innovative course projects and assignments that challenge students while also providing them with opportunities to take control of their learning.
Hobbies
comic books, animals, science-fiction and fantasy
Tutoring Subjects
ACCUPLACER WritePlacer
College English
High School Writing
Introduction to Fiction