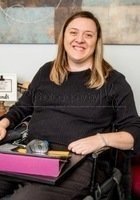 Erica
Certified Tutor
I challenge you think about what odds you can defy. Maybe it is physical odds, cultural odds perhaps, professional odds, the odds that we face are specific to each person. Defying the odds is simply identifying a challenge, making a plan to overcome that challenge, and executing that plan.

After sustaining a spinal cord injury in 2010 I decided to go back to school to pursue my education. I completed my bachelors in accounting in 2015 and soon after I got a job as a fiscal manager with a small nonprofit. In 2018, I finished my Masters degree in Strategic Management. Working in the Nonprofit industry has been a rewarding career path that has allowed me to use my knowledge to help others and promote good.

I'm also very committed to helping the next generation, I currently teach Accounting at a community college and I also have been tutoring Accounting for the past five years. My tutoring style is very much tailored around the student. I want to know what kind of learner you are so that I can be the most efficient with your time. If you are a visual learner, we will spend time painting a picture of the concepts that we are learning. If you are the type of learner that needs several resources, that's what we are going to do. I believe in open communication, and working alongside you.
Hobbies
Spending time with family and my fur babies. Volunteering,
Tutoring Subjects
A Level Prep
A Level Accounting
Business
College Accounting
Financial Accounting
High School Accounting
High School Business
Managerial Accounting