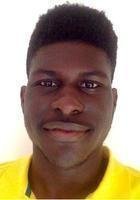 Ozzy
Certified Tutor
I am a current undergraduate student at the University of Michigan studying Mechanical Engineering. While I tutor a broad range of subjects, my interests lie about Math and Standardized testing. Over my time in college, I've struggled and gone through similar challenges to my clients, so I typically have a first-hand perspective on how to assist you. Outside tutoring, I enjoy traveling, watching sports (soccer and basketball) and listening to music. If you have any additional questions, don't refrain from asking!
Test Scores
SAT Math: 720
SAT Mathematics Level 2: 730
SAT Subject Test in Mathematics Level 1: 750
SAT Subject Test in Chemistry: 750
SAT Subject Test in Physics: 720
Hobbies
Sports (soccer, basketball, football). Video games. Traveling. Hiking. Reading motivational books.
Tutoring Subjects
Mechanical Engineering
SAT Subject Tests Prep