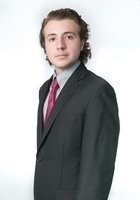 Joseph
Certified Tutor
I'm a sophomore at Harvard College, where I study Applied Mathematics with an Economics focus. Additionally, I'm pursuing a Secondary in Linguistics. I love learning about and tutoring math, economics, history, and science, and I love sharing my tips for standardized test preparation. In my free time, I enjoy learning foreign languages and playing music. To date, I've studied (to some degree or another) Spanish, Italian, German, and Latin, in addition to my native English.
Education & Certification
Undergraduate Degree: Harvard University - Bachelor of Science, Applied Mathematics
Test Scores
SAT Composite (1600 scale): 1590
SAT Math: 800
SAT Verbal: 790
SAT Mathematics Level 2: 800
SAT Subject Test in Physics: 750
SAT Subject Test in U.S. History: 800
PSAT Math: 750
Hobbies
Playing music, learning foreign languages, personality psychology, history.
Tutoring Subjects
AP Italian Language and Culture
Applied Mathematics
Business
Business Calculus
CLEP Prep
CLEP College Algebra
CLEP College Mathematics
College Application Essays
College Economics
College Math
College Physics
Conversational Italian
Conversational Spanish
Econometrics
Foreign Language
High School Physics
Latin 1
Latin 3
Latin 4
Law
Other
SAT Subject Test in Latin
SAT Subject Test in Mathematics Level 2
SAT Subject Test in United States History
SAT Subject Tests Prep
Social Sciences
Spanish 1