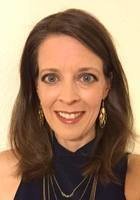 Laura
Certified Tutor
I am eager to help you in your academic endeavors! I have lots of experience helping people learn in a 1-on-1 scenario. I love being creative in my approach to any given student to find what helps them learn most effectively!

My background is mainly in the arts field; specifically in music. My strengths have always been in helping people understand complex concepts by being able to break it down for them in a manageable way.

I believe a friendly, welcoming approach in a non-judgmental environment is the most conducive to learning!

I have a Bachelors, Masters and Doctorate all in Music. Throughout each degree, I was tutoring numerous friends on various subject matters, most notably Music Theory.

I have two elementary-age children myself so I have lots of experience in teaching and molding and motivating young kids when it comes to learning new skills. Each child learns differently and my approach is to cater to the needs and strengths of each individual.

I look forward to working with you!
Hobbies
Music, Art, Helping people, teaching, hiking, traveling
Tutoring Subjects
Audition Prep
Middle School Writing
Music
Music Theory
Other
Study Skills
Study Skills and Organization