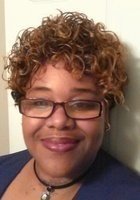 Tamara
Certified Tutor
I am a graduate of Grambling State University with a degree in Hotel/Restaurant Management. After working several years in the hospitality industry, I decided to become a teacher and began to pursue my masters in Elementary Education. I believe education is important because it gives students the tools, skills and knowledge needed to survive. Without an education, people would not know how to write, read, communicate or calculate. They would also not know how to perform their jobs safely, accurately or competently. Education also teaches students about society and the world, including culture, philosophy and history. One of my favorite subjects to tutor is reading, because to me reading plays the most important and fundamental role in the learning process. It is also the one thing I enjoy doing most. When I am not reading I enjoy listening to music, playing trivia and card games, and watching football.
Education & Certification
Undergraduate Degree: Grambling State University - Bachelor of Science, Hotel, Motel, and Restaurant Management
Test Scores
ACT Composite: 18
Hobbies
Reading, Trivia, word games, and music are a few of the things I enjoy.