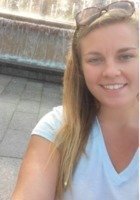 Samantha
Certified Tutor
I have an undergraduate degree in archaeology from Cornell College as well as my TEFL certification. I am a native English speaker and gained interest in teaching ESL while studying and teaching in Guatemala. I love to travel, meet new people, and experience different cultures which is why I find enjoyment in ESL. I learn so much from the students while helping them get closer to reaching their academic or professional goals. I believe students learn the best from themselves and is the key to their success so I try to act as a mentor in their learning. I am excited about learning and can't wait to share this excitement with you!
Education & Certification
Undergraduate Degree: Cornell College - Bachelor in Arts, Archaeology
Hobbies
I enjoy traveling to meet new people, to see new and old things and to learn new ideas. I love going to the gym and soaking up as much sun as I can in my free time.