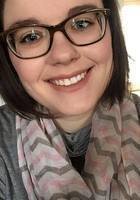 Jessica
Certified Tutor
I am a graduate student at Drew University in Madison, NJ, working towards a Masters in Teaching with certifications to teach Elementary Education and Special Education. I graduated Magna Cum Laude from Drew U in 2016 with a Bachelor's in History. I spent one year in between my undergraduate and graduate careers working in an elementary school as a Special Education paraprofessional.

My goal in life is to make a positive difference in the lives of as many people as possible. In particular, I strive to help children as much as possible and be a guide, a mentor, an advocate, and a role model for these growing minds.

I believe in creating a safe, comfortable environment for children that includes structure and mutual respect. I also believe in giving children respectful tasks--work that engages their mind and stimulates their creativity, not just "busy work." Additionally, I think that every child has a different learning style that suits them best. I try to assess this and factor it into my style of instruction as much as possible, and embrace every child's uniqueness.

I want to understand the goals and desires of the parent/guardian as well as the goals and desires of the child, and incorporate those factors into my instruction.
Education & Certification
Undergraduate Degree: Drew University - Bachelor in Arts, History
Graduate Degree: Drew University - Master of Arts Teaching, Elementary School Teaching
Test Scores
SAT Composite (1600 scale): 1300
Hobbies
Reading, Creative Writing
Tutoring Subjects
Elementary School
Elementary School Reading
Elementary School Science
Elementary School Writing
Other
PRAXIS
Study Skills
Study Skills and Organization