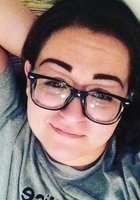 Nichol
Certified Tutor
I am currently seeking my Associate's degree at Ozarks Technical Community College and plan on transferring to Missouri State University in the fall to work on my Bachelor's degree in biology. Most of my tutoring experience pertains to elementary/middle school math and elementary reading. In high school, I tutored 3rd grade math and 8th grade pre-algebra. I also tutored my little brother in reading for several years due to his dyslexia. Currently, I volunteer tutor in math of varying degrees of difficulty for the Adult Education and Literacy program at OTC. My teaching philosophy is simple: everyone learns in their own way. I like to start my sessions by figuring out the student's learning style so that I know the best way to teach them. Outside the school realm I enjoy music (almost anything), movies (Disney or otherwise), and books. I have a growing record collection and come from a family of musicians (though my instrumental skills could use some serious work). I also love cats, artwork, and Guitar Hero.
Test Scores
ACT Composite: 25
Hobbies
music (almost anything), movies (Disney or otherwise), books, artwork, records, and cats
Tutoring Subjects
Basic Computer Literacy
Elementary School Math
Elementary School Reading
Elementary School Writing
Microsoft Office
Middle School Reading
Middle School Reading Comprehension
Technology and Coding
What might you do in a typical first session with a student?
Have the student take a basic learning style assessment to establish the best way to teach them.
How can you help a student become an independent learner?
In my experience, establishing a genuine desire for knowledge is the best way to make a student an independent learner. Once the basic ground work is there, learning becomes second nature.
How would you help a student stay motivated?
I find that relating the learning material to something that they enjoy doing helps hold their interest.
If a student has difficulty learning a skill or concept, what would you do?
I like to use as many examples as I can and walk them through the process, step by step.
How do you help students who are struggling with reading comprehension?
I have found that it can help if they read the sample aloud and, if that doesn't work, if I read the same sample aloud.
What strategies have you found to be most successful when you start to work with a student?
Establishing their learning style is very important. Not every student learns in the same way, so it is crucial to find out how they learn so I can know the best method of teaching for them.
How would you help a student get excited/engaged with a subject that they are struggling in?
Relating that subject to something that they're interested in is a solid way to keep the student interested in the subject matter.
What techniques would you use to be sure that a student understands the material?
I like to give scenarios orally or give out sample problems to make sure the concept has been thoroughly absorbed.
How do you build a student's confidence in a subject?
I think that praise and/or reward helps build a student's confidence. In addition to that, I would have to say that once they realize how well they're doing, confidence tends to come with the territory.
How do you evaluate a student's needs?
I like to start by asking what they feel like they're struggling with. Then, offering up a practice worksheet helps me find any additional problem areas.
How do you adapt your tutoring to the student's needs?
I tutor according to each student's learning style. Some learn by seeing, some learn by doing, and some learn by hearing. Once I know which style suits the student, I use that method.
What types of materials do you typically use during a tutoring session?
I like to use worksheets, practice problems, or reading materials, depending on the subject. Occasionally, visual aids may make an appearance.
What is your teaching philosophy?
Everyone learns in their own way. I like to find the student's learning style beforehand so that I know how best to tutor them.