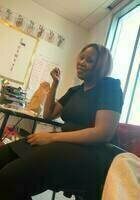 Ashley
Certified Tutor
I take my job as an educator very seriously. I am licensed to teach both the six grade in the state of New York. I have a Masters in Special Education and writing the dissertation to my PHD in Special Education. I enjoy finding out how my students learn. Together we can work to produce the best outcome for your student.
Education & Certification
Undergraduate Degree: Kaplan University - Bachelors, Early Childhood Education
Graduate Degree: North Carolina Central University - Masters in Education, Special Education
Hobbies
I enjoy reading, writing, going to museums, reading drama books, comedy books, and acting.
Tutoring Subjects
Academic Coaching
Adult Literacy
African-American History
Art
College English
COMPASS Reading
COMPASS Writing Skills
Elementary School
Elementary School English
Elementary School Math
Elementary School Reading
Elementary School Science
Elementary School Writing
Expository Writing
Fiction Writing
Handwriting
ISEE-Lower Level Mathematics Achievement
ISEE-Lower Level Quantitative Reasoning
ISEE-Lower Level Verbal Reasoning
ISEE-Lower Level Writing
ISEE-Middle Level Verbal Reasoning
ISEE-Middle Level Writing
ISEE-Upper Level Verbal Reasoning
ISEE-Upper Level Writing
K-11th Grade Standardized Tests Prep
Middle School English
Middle School Reading
Middle School Reading Comprehension
Other
PCAT Verbal Ability
PCAT Writing
Quantitative Reasoning
Study Skills
Study Skills and Organization
Technical Writing
Technology and Coding