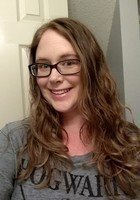 Kelli
Certified Tutor
I have my CPA, degrees in Accounting (BBA) and Finance (MS), and am currently taking advanced math classes to pursue a PhD in Economics. I am an Adjunct Professor teaching Accounting at community college, and I love teaching! I got my undergrad and masters degrees in 5 years combined with a GPA of 3.4-3.5, and scored in the 90-95th percentiles on my SAT, GMAT, and CPA.

Whether I'm teaching undergraduate accounting classes, training staff accountants, or explaining concepts to fellow students during study sessions, I greatly enjoy articulating concepts and puzzling out the best way to engage learners and convey information in an accessible way. I love seeing the lightbulb moments when information clicks. I look forward to exploring teaching in a new way through tutoring.
Education & Certification
Undergraduate Degree: Texas AM University - Bachelors, Accounting
Graduate Degree: Texas AM University - Masters, Finance
Hobbies
Math, economics, reading, yoga, exercise, sci-fi
Tutoring Subjects
10th Grade Math
Business
College Accounting
College Economics
Financial Accounting
GMAT Quantitative
GMAT Verbal
High School Accounting
High School Business
High School Economics
What is your teaching philosophy?
My teaching philosophy is that every student learns best differently, and teaching is a two-way relationship. I convey information while asking questions and am constantly adjusting my teaching and communications styles to suit the current student and situation.
What might you do in a typical first session with a student?
In a first session, I'd like to find out what the student knows, how they learn, and in what areas they are weak. We might start by discussing what they've been working on and having trouble with, and then doing practice problems and talking through some concepts.
How can you help a student become an independent learner?
I can help a student become an independent learner by teaching them study skills, helping them determine the right questions to address, and giving them experience thinking through the underlying concepts behind problems.
How would you help a student stay motivated?
To stay motivated, a student needs to be learning and growing, and I can help them do that by walking through the underlying concepts of problems together and giving them tools for understanding concepts and approaching problems in effective ways.
If a student has difficulty learning a skill or concept, what would you do?
If a student has difficulty with a skill or concept, I would try to teach it in a different way. There are always several different ways to approach and think about the same thing. If it seems like they are overwhelmed by all the information, I would break it down into smaller parts and approach each one individually until they gain a bit of confidence with it.