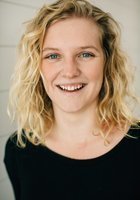 Zoe
Certified Tutor
I believe strongly in equal access to education for everyone regardless of background.

I am enrolled in a five-year Master's program in Biology. I am a research assistant and the genetics TA at my University. Upon receiving my Master's degree, I plan on going to medical school, and from there I want to work in Global Health.

I am excited about learning and teaching, and I am excited to help you achieve your goals!

Hobbies
Hiking, climbing, running, reading, learning
Tutoring Subjects
Adult ESL/ELL
Adult Literacy
Cell Biology
College Application Essays
College English
Conversational Spanish
Evolutionary Biology
High School English
Homework Support
IB Biology
Other
Study Skills
Study Skills and Organization
Summer
Technical Writing
Technology and Coding
What is your teaching philosophy?
The best way to learn material is to quiz yourself or to be quizzed consistently. The only way to get good at something is to practice incessantly. But, they also can get boring. I want to allow you to practice as much as possible, while keeping it fun and engaging!
What might you do in a typical first session with a student?
During the first session I will get to know the student, and have them share their experiences in the subject with me. I want to hear how you feel you are doing, and what you think your weak spots are.
How can you help a student become an independent learner?
Study skills are sometimes hard to learn. I encourage students to explore new ways techniques until they find something that they enjoy and can be sustained.
How would you help a student stay motivated?
It depends on the circumstance. Some students just need a reminder on why they are there, while others need external rewards to stay motivated. Moderation is everything.
If a student has difficulty learning a skill or concept, what would you do?
We would talk about it and find the source of the difficulty, then work through it together until it starts to get easier.
How do you help students who are struggling with reading comprehension?
Motivation to read is a cornerstone of comprehension. Finding literature that appeals to the student is the best way to teach reading comprehension!
What techniques would you use to be sure that a student understands the material?
Diagnostic tests are, albeit boring, the best way to ensure material comprehension.
What types of materials do you typically use during a tutoring session?
I use a lot of online resources. YouTube is one of the best teachers I have ever had!
What strategies have you found to be most successful when you start to work with a student?
Listening to the student is a tenet of a good relationship, and therefore an open learning environment. If you have a good relationship, the rest comes more easily.