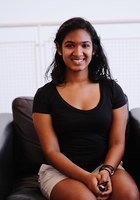 Swathi
Certified Tutor
Hi! My name is Swathi and I am a freshman at Cornell University studying Biological Engineering. I have been tutoring students for a long time, since the sixth grade, when I would tutor peers in mathematics. I continued tutoring students through high school, and after moving to college I decided to tutor on the internet. I have scored at or above the 90th percentile on all of the standardized exams I have taken, including the SAT, PSAT, and ACT, and I can help you do the same.
Education & Certification
Undergraduate Degree: Cornell University - Current Undergrad, Biological Engineering
Test Scores
ACT Composite: 36
ACT English: 35
ACT Math: 36
ACT Reading: 36
ACT Science: 36
SAT Composite (1600 scale): 1580
SAT Math: 800
SAT Verbal: 760
SAT Writing: 790
SAT Mathematics Level 2: 800
SAT Subject Test in Chemistry: 800
SAT Subject Test in Biology E/M: 790
Hobbies
Reading, swimming, coding
What is your teaching philosophy?
My approach to teaching is the same as the legal approach to driving instruction in New York City. The student is in control of the gas and the steering wheel, but I'm not afraid to hit the passenger brakes or take over steering when things start to go wrong.
What might you do in a typical first session with a student?
I would try to figure out where they stand in terms of the goals they hope to achieve, sort of like a diagnostic.
How can you help a student become an independent learner?
I'd do my best to make students believe that they have what it takes to master the subject, so that they do not lose motivation or fall into a metaphorical pit due to lack of confidence.
If a student has difficulty learning a skill or concept, what would you do?
I would first make sure they have the basics correct, because they can't build on a shaky foundation. Once that has been finished, I would teach them related concepts before arriving again at the one they had trouble with.
How do you help students who are struggling with reading comprehension?
I teach them to look for key phrases that indicate things like tone/voice, the importance of a given point, and the author's opinion.
What strategies have you found to be most successful when you start to work with a student?
Students often want to prove themselves before anything else. So I give them one or two challenging questions along with a series of diagnostic questions so that I can see just how much the student is capable of.
How would you help a student get excited/engaged with a subject that they are struggling in?
I would try to get a sense of what the student is actually interested in, and demonstrate to them how the subject they care about is actually related to the one they are struggling with. It helps students to put things in perspective, so that they understand (maybe not explicitly) the importance of an interdisciplinary education.
What techniques would you use to be sure that a student understands the material?
I would have the student solve problems or answer questions independently, and if they are a particularly motivated student, I would give them an especially challenging problem that is based on the material at hand, and see if they are able to apply the concept even when it is in a different context.
How do you build a student's confidence in a subject?
Go back to the basics to show them that they have mastered the hardest part. Then work up from there, building difficulty until the student is confident.
How do you evaluate a student's needs?
I start by asking the student to be honest about what they can and cannot do, and by having the student do several diagnostic problems and explain how they arrived at their answers to see if there are any problems with the thought process, or anywhere else.