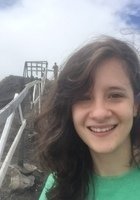 Camryn
Certified Tutor
I am a recent graduate of Howard Payne University who loves the Spanish language! While in college, I received a BA in Spanish and minored in Political Science. I also worked as a conversation partner and tutor for other Spanish students at my university to help them improve their speaking, writing, and comprehension of the language. I spent a semester observing a Spanish teacher at the high school near my university, and worked with her to learn different language-teaching tactics. I grew up in an area where Spanish was just as commonly heard as English, and I am really excited to start helping students grasp and learn the language. In college, I traveled to Italy, Colombia, and Costa Rica, and yes even in Italy, my Spanish proved to be a valuable skill. I believe that students should be motivated to learn a subject, and I feel that it is my job to help them find motivation. Students who work with me will use critical thinking to solve problems. Outside of tutoring, I enjoy traveling, boxing, hiking, rock climbing, and am a huge dog-lover! I look forward to tutoring you, and am very excited to share my knowledge and love of the language with students.
Hobbies
Traveling, Hiking, Rock Climbing, Boxing, Crocheting, Sewing, Playing with my dog, Writing, Doodling, and being outdoors!
What is your teaching philosophy?
I believe the most important aspects in teaching are passion and motivation. As a tutor, it is my responsibility to show students enthusiasm about what they are learning, and to give them a reason to learn it!
What might you do in a typical first session with a student?
I will introduce myself, and ask the student to briefly introduce themselves. I will also explain to the student more in depth my tutoring style, and ask if they have a certain preference in how I present the information to them.
How can you help a student become an independent learner?
I typically will not answer a student's question right off the bat. I will ask the student questions based on what they already know, and encourage critical thinking to help them solve the problem on their own.
How would you help a student stay motivated?
Everyone has something that motivates them! It is a teacher's (and tutor's) job to give the student real-world circumstances to which the topic would apply. Students cannot learn if they are not motivated, and I intend to motivate my students by staying enthusiastic and incorporating their personalities into our lessons.
If a student has difficulty learning a skill or concept, what would you do?
I would use another strategy to help explain the concept to the student. It is important that a tutor have more than one way of explaining things.