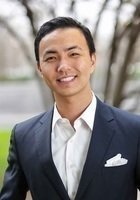 Jeremy
Certified Tutor
Private equity investment professional based in New York City. Hobbies include snowboarding, ballroom dancing, board games and running.
Education & Certification
Undergraduate Degree: Columbia University in the City of New York - Bachelors, Operations Research: Financial Engineering
Graduate Degree: Harvard Business School - Masters, Business Administration and Management
Hobbies
Snowboarding, ballroom dancing, board games and running.
Tutoring Subjects
Business
College Accounting
Financial Accounting
GMAT Quantitative
GMAT Verbal
High School Accounting
High School Business
What is your teaching philosophy?
I believe in helping the student to reach the answer on his/her own rather than providing the answer and working backwards. I do this by using three approaches: (1) framing the question and taking it high level, (2) present parallel situations/examples that are easier to comprehend and (3) listening and answering questions/concerns of the student.
What might you do in a typical first session with a student?
In the first session, I believe in establishing goals and ground rules, as well as discussing the student's learning style and my teaching style. Once everyone is on the same page, we can dive into the materials and figure out the proper pacing.