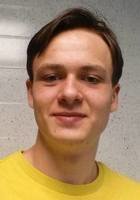 Valentin
Certified Tutor
I am a freshmen in college at the University of Wyoming. I just moved back to Wyoming after having spent 4 years in a Belgian high-school in Brussels. I am adept at a variety of subjects and have a lot of experience tutoring through a program that I participated in through my high-school as well as with the English lessons I used to give to French speakers through my own tutoring business. I try to get all of my students involved in tutoring so learning isn't simply a chore or a requirement but something beneficial and dare I say, fun. Whether it be English, French, math or even ACT prep, I am positive that I can help you learn it all, even the subjects that pose the greatest difficulty to you.
Education & Certification
Undergraduate Degree: Univeristy of Wyoming - Current Undergrad, Pharmacy
Test Scores
ACT Composite: 35
ACT English: 34
ACT Math: 35
ACT Reading: 33
ACT Science: 36
Tutoring Subjects
College Chemistry
Conversational French
French 1
High School Chemistry
What is your teaching philosophy?
Learning takes practice and motivation. It is important to see the real-life applications of what you are learning in order to know why you are learning it, and to motivate you to learn it.
What might you do in a typical first session with a student?
Introduce myself, and then get to know them a little to see where their difficulties and strengths are in the subject matter.
How can you help a student become an independent learner?
Teach them study habits, and help them develop a way of thinking and learning that can be self-improved.
How would you help a student stay motivated?
Show them why they are learning certain subjects, and give them incentives and support to succeed.
If a student has difficulty learning a skill or concept, what would you do?
Go over it in a different way or find a different way to teach the skill. If this fails, then try to find a concrete real life way to teach the skill.
How do you help students who are struggling with reading comprehension?
Go over a variety of texts that they find interesting and would be motivated to attempt to understand.
What strategies have you found to be most successful when you start to work with a student?
Get on a friendly level in order to learn more quickly what they enjoy and how they learn best.
How would you help a student get excited/engaged with a subject that they are struggling in?
Tie it to something they enjoy in real life, and find alternative motivation for learning.
What techniques would you use to be sure that a student understands the material?
Tests and exercises of varying difficulty, as well as asking the student himself if he feels comfortable with the material.
How do you build a student's confidence in a subject?
Give them easy questions and exercises to begin to show them that they are capable, and make sure to always comfort them if they do not succeed.
How do you evaluate a student's needs?
Watching them and evaluating them, but also speaking with them and being direct.
How do you adapt your tutoring to the student's needs?
The tutor must always adapt to the student and find the best way for them to learn. If they are visual learners, you do more visual exercises, for example.
What types of materials do you typically use during a tutoring session?
Books and test questions, but also anything that could pertain to the subject to make it more fun and relatable.