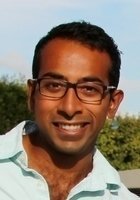 Naveen
Certified Tutor
I am a 2008 graduate of Cornell University's School of Hotel Management. While hospitality was the focus of my major, I took a keen interest in the program's finance coursework. I graduated in the top 10% of my class, obtained my CFA charter and spent 4 years as a M&A banker on Wall Street. I obtained my MBA degree from the University of Chicago Booth School of Business in 2014.

While I have significant academic and professional experience, I'm most fond of my time spent teaching finance, accounting and business as a teaching assistant at Cornell. Instead of chaperoning students for 2 hours, I approached my office hours as opportunities to help students impound lecture material. Focusing on the fundamentals is critical to true understanding and the application to more complex problems. Watching students reach the inflection point between familiarity and comprehension is truly rewarding.

Outside of work, I enjoy cooking, playing tennis, listening to indie music and traveling. Traveling itself isn't noteworthy, but doing on a budget is. I've visited over 50 countries and backpacked across Europe.
Education & Certification
Undergraduate Degree: Cornell University - Bachelor of Science, Finance
Hobbies
Indie Music, Reading Wikipedia, Current Events, Tennis and Travel
Tutoring Subjects
Business
College Accounting
College Economics
College English
High School Accounting
High School Business
High School Economics
High School English
Macroeconomics