Rehanna
Certified Tutor
...about my own strengths and weaknesses. It is empowering for students to know that they educate me as much as I educate them. Each individual has his or her own unique set of understanding, personality, learning style and skills. As and educator, I strive to tailor my lessons to address my students' needs in order...
Education & Certification
Bachelors, Child Development
Shamus
Certified Tutor
...diverse strategies that are engaging and help close achievement gaps. My academic background includes earning my Masters of Science degree in physiology in 2015, and a Bachelors of Science with a minor in Chemistry in 2012 from San Jose State University. My education provided me the opportunity to work as a researcher and teach college...
Education & Certification
Bachelors, Biology. Minor in Chemistry
Masters, Physiology
Jesus
Certified Tutor
I have worked as a project engineer in the nuclear research field after obtaining my degree in Chemical Engineering. I have had to use my skills and knowledge of chemistry, mathematics, materials and physics in order to be able to succeed in my field. My hobbies include hiking, traveling and learning new languages. ... I believe that teaching can only be achieved between a knowledgeable and experienced tutor with a student who is willing to learn...
Education & Certification
Bachelors, Chemical Engineering
Barry
Certified Tutor
...and mathematics. These are tools that allow us to predict and control the future! Phones, computers, cars, bridges, buildings, and the space station were all created with science and mathematics. Not only are these powerful tools, but learning math and science can help you become better thinkers. The logical process used to solve science and...
Education & Certification
Bachelors, Psychology
Masters, Industrial and Systems Engineering
Brian
Certified Tutor
...the goals we set out to achieve. I have many years of tutoring experience and have assisted in their studies. My students have fun while learning a difficult new language. Because of my very own experience in learning English when I came to America, I am able to relate to my students' struggle in learning...
Education & Certification
Bachelors, International Business
Lisa
Certified Tutor
...way to present material so they will be successful in meeting their challenges. After only six months in my previous teaching job, I was awarded "Employee of the Month" as a result of my hard work and dedication to my students. I am skilled in making a personal connection with all of my students and...
Education & Certification
Bachelors, Cultural Anthropology
Masters in Education, Education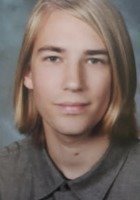 Carter
Certified Tutor
...my degree in Software Engineering with a focus on graphics programming and Machine Learning/AI. What I believe makes me such a great tutor in Computer Science areas is that I taught myself programming six years ago, so I understand all the struggles that someone who is trying to learn programming are going through. In my...
Education & Certification
Bachelor of Science, Computer Software Engineering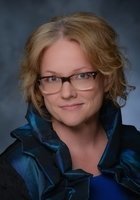 Karin
Certified Tutor
...camp), reading for the SAG Foundations BookPALS (Performing Artists for Literacy in Schools) program, plus reading and writing skills to at-risk students through the Park Districts Kraft Great Kids Program. I've assisted many of my arts marketing clients, including Barrel of Monkeys and Kidworks Touring Theatre, with youth literacy programs at schools and libraries throughout...
Education & Certification
Bachelor of Science, Communication, General
Master of Fine Arts, Creative Writing
Education & Certification
Bachelor of Philosophy, Chemical Engineering
Theresa
Certified Tutor
...their fullest potential. I am a Varsity Tutor and a Behavior Analyst. I am an experienced teacher and liaison for families, staff, and administrators. I was a founding teacher for the summer TK program and School Age Kindergarten program for a corporate child care center and school. I have also served as a mentor to...
Education & Certification
Bachelor in Arts, Child Development
Master of Arts Teaching, Education
100% Tutor Satisfaction Guarantee
At Varsity Tutors, we're committed to connecting you to top tutors capable of delivering an outstanding experience. That's why we provide a 100% tutor satisfaction guarantee.
If you need help with the challenges you're facing at San Jose State University, Varsity Tutors can connect you with a tutor that can make a difference. Working with an expert instructor is an effective way to reach for your full potential, whether you need help with chemistry, economics, history, or any other subject.
These knowledgeable individuals go through a strict vetting and interview process, so you can feel confident you're learning from a fully qualified instructor. You can receive help with a range of academic undertakings, including exam prep, term papers, projects, homework, and everything in between. One-on-one instruction can be beneficial for students of all levels, and San Jose State University tutoring can help you build on your existing knowledge.
How can a college tutor near me at San Jose State University help me study?
College-level learning involves many challenges that are notably different from those you've faced before in high school classes. First of all, the difficulty level is significantly higher, and things only become more challenging as you progress through your college years. Secondly, it can be tough to get enough attention from your professors, especially when they're trying to teach hundreds of different students in a lecture.
While you can ask questions during a lecture, your professor might not explain concepts in a way that you can easily understand. Before you know it, they've moved on to the next topic. You can try to speak with your professor after class if they hold office hours, but even then you might be left with an incomplete understanding of crucial topics.
You can overcome these barriers during your San Jose State University tutoring sessions. Since your tutor doesn't have to deal with any other students, they can provide you with a level of in-depth, personalized attention that is hard to replicate outside of tutoring sessions. They can take the time to clearly explain even the most complex topics, and you can ask as many questions as you'd like while learning at a speed that feels manageable.
Can a San Jose State University tutor help me prepare for tests?
While it's never a bad time to receive help from a knowledgeable instructor, tutoring can be an especially smart move if you have exams or midterms coming up. San Jose State University tutoring can help you get a sense of the specific format of these exams and how to approach them strategically. Your San Jose State University tutor can also help you practice questions that are similar to those you'll face on your exam.
Your expert instructor is familiar with the exams in your specific course, and they can share strategies that can help you reach for your top academic goals. They can also make prep more efficient by choosing study methods based on your learning style. If you're a visual learner, you might retain information easier through flashcards. On the other hand, discussions might be more effective if you're a verbal learner.
A personal instructor can help you see how much easier studying can be if you prep using methods that match your learning style. Your tutor can also equip you with additional strategies that can boost your performance in all your college-level courses. These include tactics for approaching multiple-choice exams, effective note-taking techniques, and time-management tips and tricks.
How can I find a college tutor near me at San Jose State University?
Varsity Tutors understands that finding the time to study effectively is often half the battle. It's even harder when you're dealing with all kinds of commitments in addition to your regular studies. Varsity Tutors can connect you with a personal instructor who can work around these scheduling conflicts and help you study at a time that's convenient for you. A college tutor at San Jose State University can meet with you either in person or through a virtual learning environment.
You can access our online Live Learning Platform from any internet-friendly location, which makes this a convenient and flexible option. Study from home, and you can eliminate travel time entirely. Even though you won't be in the same classroom as your personal instructor, you can still communicate with them through video chat and receive instant feedback with a shared document editor. A virtual whiteboard helps streamline your sessions, and you can revisit your past lessons if you need to refresh your knowledge of past concepts.
How can I find a college tutor near me at San Jose State University?
You can reach out to us either online or by phone, and our educational consultants will be happy to assist you. Aside from helping you connect with a tutor who fits your needs, we can also answer any questions you might have before you commit. Personal instruction can help you approach your academic challenges with a newfound sense of confidence, even if deadlines are just a few short weeks away. If time is of the essence, we can connect you with a San Jose State University tutor in as few as 24 hours.
Your Personalized Tutoring Program and Instructor
Identify Needs
Our knowledgeable directors help you choose your tutor with your learning profile and personality in mind.
Customize Learning
Your tutor can customize your lessons and present concepts in engaging easy-to-understand-ways.
Increased Results
You can learn more efficiently and effectively because the teaching style is tailored to you.
Online Convenience
With the flexibility of online tutoring, your tutor can be arranged to meet at a time that suits you.
Recent Tutoring Session Reviews