Shawn
Certified Tutor
...an energy firm. I have years of experience tutoring and teaching math and various sciences from elementary through college. I primarily tutor high school math and sciences but also have extensive experience in all forms of engineering and higher mathematics including Calculus and Linear Algebra. I believe in incorporating real world examples to help students...
Education & Certification
Bachelor of Science, Engineering
Kevin
Certified Tutor
...produced the most innovative, cost effective, and time efficient design possible. Getting to know the members of the team, it was clear that not everyone was always on the same page. To be a successful team, I knew that we all needed to understand exactly what we needed to do. So, on several occasions, I...
Education & Certification
Bachelor of Science, Aeronautical Engineering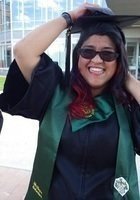 Shelby
Certified Tutor
...Clarkson University. I graduated with a Bachelors of Science in Biology. While I was at Clarkson I conducted research in conservation biology and animal learning. My primary research was in the population distribution of the endangered golden-winged warbler, a shrubland breeding bird species. My plan is to take a gap before continuing my education in...
Education & Certification
Bachelors, Biology, General
Alexander
Certified Tutor
...high school and college level, as well as math from Calculus 1-3 to Differential Equations. I currently work as a product manager for an online retailer that sells aerial video drones and equipment. In my free time I play fingerstyle acoustic guitar (self-taught), and I also offer guitar lessons if you are interested! Learn the...
Education & Certification
Bachelor of Science, Mechanical Engineering
Colin
Certified Tutor
I enjoy teaching and seeing the look on student's faces that moment when it clicks and they get it. I'm eternally grateful to all the people who have helped me on my academic journey, and I value the opportunity to pay that back.
Education & Certification
Bachelor of Science, Aerospace Engineering
Doctor of Science, Mechanical Engineering
Hunter
Certified Tutor
...relevant mentoring and study strategies for your subject area to ensure that you succeed academically and actually understand the work your doing! I guaranty that I can breakdown and explain tough concepts to those struggling with dry teaching styles, outdated textbooks and confusing exam questions. "Do not be afraid to ask for help. Nobody gets...
Education & Certification
Bachelor of Science, Biochemistry and Molecular Biology
Grant
Certified Tutor
Student at the Medical University of South Caorlina. Primarily interested in tutoring graduate or undergraduate level anatomy and physiology. Can also tutor neuroscience, exercise physiology, and biology. Experience: cardiovascular perfusion, anesthesia tech, EMT, taught graduate level anatomy, physiology, neuroscience, and kinesiology.
Education & Certification
Bachelor of Science, Biology, General
Master of Science, Cardiovascular Technology
John
Certified Tutor
...and high school sciences, history, and basic mathematics. My tutoring philosophy centers around a combination of a holistic and independent approach. I believe that the best way for a student to learn is the way in which they have been most comfortable in the past, tailored to each specific subject in which they need assistance....
Education & Certification
Bachelor in Arts, Economics
Masters in Business Administration, Business Administration and Management
Keith
Certified Tutor
My goal is to help others discover and achieve their purpose, and I feel education is the most practical and powerful tool to achieve one's purpose.
Education & Certification
Bachelor of Science, Chemical and Biomolecular Engineering
Doctor of Philosophy, Chemical and Biomolecular Engineering
Education & Certification
Bachelor of Science, Biology, General
Doctor of Philosophy, Neuroscience
100% Tutor Satisfaction Guarantee
At Varsity Tutors, we're committed to connecting you to top tutors capable of delivering an outstanding experience. That's why we provide a 100% tutor satisfaction guarantee.
If you need assistance to better understand your college coursework, get in touch with Varsity Tutors so we can help you connect with a Clarkson University tutor. Whether you need some help reviewing material for an upcoming Physics test or you are struggling with your foreign language homework, a personal instructor can help you more thoroughly explore the concepts in your courses that are giving you the most trouble.
How can a college tutor near me at Clarkson University help me study?
Have you discovered that you can't keep up with your college coursework as easily as you did while still in high school? A personal mentor can provide valuable one-on-one assistance that can help you build a more solid foundation of knowledge in difficult subjects. This kind of personalized attention isn't usually available in a traditional college classroom because your professor has an entire class they must focus on and sometimes that can include hundreds of students.
Many professors have office hours where you can ask for more information on a confusing concept, but there's no guarantee that you will understand the given explanation or that the professor will have the time to provide you with detailed information.
This is where Clarkson University tutoring comes in. Your instructor can come up with a study plan that's made specifically to utilize your strengths, improve your weak areas, and help you reach for the educational milestones that you have set. You can choose how fast or slow you want to move through subjects, all depending on how comfortable and confident you are in a topic. If you need more time, you can get it, and if you're ready to move on, you can do that too.
Can a Clarkson University tutor help me get ready for my exams?
When you're getting ready to take a unit test, a midterm, or a final exam, you might feel overwhelmed by the amount of information that you need to review to be fully prepared. When you work with a college tutor at Clarkson University, you can get extra help studying for these assessments in a number of ways. For example, your mentor can help you divide up subject material into more manageable chunks to study, so you don't have to focus on the entire course all at once. Another way they can help is by encouraging you to set reasonable milestones that you can meet during your study sessions. As you achieve each goal, it can help improve your confidence.
When designing your lesson plan, your tutor can ask questions about your academic goals, your outside interests, and where you believe you're strongest at. This information can impact how they set up your study sessions and can keep you more interested in what you're reviewing. For example, if you let your instructor know that you learn best visually and you're having a difficult time with your Astronomy course, they can help you study by using flashcards to help you memorize constellations.
On the other hand, if you are an auditory learner and you find your Calculus course particularly challenging, the mentor can encourage you to participate in discussions about the concepts covered and can give short lectures that explain the topics in more detail. Clarkson University tutoring is more efficient and effective when your instructor keeps your preferred learning style in mind.
Though your instructor's highest priority is helping you review for upcoming tests, guide you through your homework, and build your comprehension, tutoring doesn't stop there. They can also offer suggestions that can help you develop and refine your studying techniques, which become more important the further you get into your educational pursuits. Your personal mentor can suggest ways to take better notes, manage your time better, and improve your organizational habits.
How can I find a college tutor near me at Clarkson University?
Varsity Tutors believes that private instruction should be simple to get started with and shouldn't interfere with your other responsibilities too much. So, we do the work of finding you a tutor who can meet with you at a time that best accommodates your schedule. Whether you want to study in person or online, you will get support and guidance from top-notch instructors. When you choose to study online, you can utilize our Live Learning Platform to meet up with your instructor. This means you don't have to commute to a specific location for your Clarkson University tutoring but can instead choose a comfortable and convenient place to log onto the platform.
The Live Learning Platform is more than just a meeting spot for you and your private tutor. It also has several features that can improve the quality of your study sessions. This includes a video chat where you can fully communicate, document sharing, a digital whiteboard, and a number of other educational resources. The platform records your lessons, which means you can return to a prior study session if you want to solidify the information you studied further in your mind.
When you are ready to begin studying with a qualified Clarkson University tutor, get in touch with Varsity Tutors. One of our educational consultants can provide more details, answer questions, and help you get started. Contact us today and you could be working with the personal instructor we find you in as little as 24 hours.
Your Personalized Tutoring Program and Instructor
Identify Needs
Our knowledgeable directors help you choose your tutor with your learning profile and personality in mind.
Customize Learning
Your tutor can customize your lessons and present concepts in engaging easy-to-understand-ways.
Increased Results
You can learn more efficiently and effectively because the teaching style is tailored to you.
Online Convenience
With the flexibility of online tutoring, your tutor can be arranged to meet at a time that suits you.
Recent Tutoring Session Reviews