Charley: High Point tutor
Certified Tutor in High Point, NC
I am a graduate from a top medical science program. I plan to practice primary care medicine as a Physician Assistant in North Carolina. I have experience tutoring subjects in professional degree programs, including Nursing and Medical Assisting. I am excited about teaching basic and medical science to students from high school to med school!
Amber: High Point tutor
Certified Tutor in High Point, NC
I am an Electrical Engineer, an Artist, and a Blogger that has a passion for empowering others to accomplish tasks that they previously viewed impossible.
Nicholas: High Point tutor
Certified Tutor in High Point, NC
Biomedical Science Major. I want to provide physical and spiritual healing to the nations.
Brianna: High Point tutor
Certified Tutor in High Point, NC
...writing, and student education. I am currently in graduate school at UNC Greensboro for a graduate program in Student Affairs Administration in Higher Education. My favorite subject it English, and my philosophy on working with students is: every student learns differently, and it's up to educators to accommodate learning so that it works for everyone....
Education & Certification
UNC Chapel Hill - Bachelor in Arts, Psychology
UNC Greensboro - Masters in Education, Higher Education Administration
Haley: High Point tutor
Certified Tutor in High Point, NC
I am a graduate of the University of North Carolina at Chapel Hill. I achieved my bachelor of the arts degree in psychology. I have since begun a post baccalaureate certificate program for computer science. I love teaching students because I believe that education is a key that can unlock so many opportunities. The ability...
Eric: High Point tutor
Certified Tutor in High Point, NC
...chemistry and other sciences. I tutor chemistry, AP chemistry, algebra 1, algebra 2 ad pre-algebra. I received a bachelor of science degree in Natural Science from Christian Brothers University and a masters of art in teaching degree from the University of Memphis. For my tutoring clients, I will provide a structured plan to help them...
Education & Certification
North Carolina A T State University - Bachelor of Science, Biology, General
Christopher: High Point tutor
Certified Tutor in High Point, NC
...catawba college as a premed student. This is my 3 year in college. When I was in high school my English teacher was the perfect example of why I enjoy tutoring and helping others. My teacher philosophy would be to reach everyone I can reach and push them to another level. It is so poignant...
Education & Certification
Catawba College - Bachelor of Science, Premedicine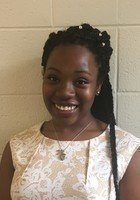 De Shanna: High Point tutor
Certified Tutor in High Point, NC
...Electrical & Computer Engineering. I tutor in most stem fields and high school level and below English and Spanish. My favorite subject to tutor is chemistry because it was my favorite subject in school. When tutoring I like to help develop the skills that students already have and help them fill in the gaps in...
Education & Certification
Duke University - Bachelor of Science, Biomedical Engineering
Hannah: High Point tutor
Certified Tutor in High Point, NC
...reason. Writing can be a vulnerable process, but I love what is unearthed during the time I spend with my students. I am honored to read their work and consider it a great privilege to work with them. I look forward to working with you to address any concerns you might have about your writing,...
Work With The Perfect Tutor For You
Only the best High Point tutors are able to work with you. The tutors go through a rigorous interview, possess excellent teaching skills, and pass a background check. From this elite group, an expert director will help you find the best tutor to meet your individual needs – and we stand behind your satisfaction with our money-back guarantee.
You select the time and location, and expert tutors develop the strategies to help you meet and exceed your tutoring goals.
If you or your student needs help with certain skills or subjects, Varsity Tutors can match you to a High Point tutor who fits your needs. During your High Point tutoring sessions, you are able to get ready for important exams, learn skills or concepts, study for key subjects, and increase your comfort level with difficult material. The opportunities for learning that you encounter in your sessions can help you to pursue your goals effectively. High Point tutors are able to adapt your time together according to what helps you work best.
What can a High Point tutor near me do to help me reach for my academic goals?
One way that your High Point tutor can help you make the most of the time you spend studying is through helping you to develop a study plan. This plan might break your sessions into smaller units of time. You are then able to work on certain skills or concepts during each window of time. By organizing your time in this way, you are able to move through your sessions methodically and effectively. Because there is not a planned curriculum for High Point tutors to follow, you can decide what content is most pertinent to your goals. For example, some students might prefer to pursue a broad overview of a subject by studying multiple topics within the subject area. Conversely, other students might want to study a couple of areas thoroughly. However you choose to direct your studying, your mentor can help you to use your time effectively. Additionally, the study skills you learn during High Point tutoring can be applied to many other academic or professional contexts.
Moreover, your instructor can help you to maximize your study time is by paying attention to the way you learn best. Because everyone learns differently, adapting sessions to fit your learning preference can help you to learn and retain the material you encounter as well as possible. Additionally, throughout your sessions, you and your instructor can interact in ways that lead to a cooperative learning atmosphere. By asking questions and discussing key ideas, you are able to get greater clarity about the material and internalize your learning. Your High Point tutor can interact with you in ways that help you to learn skills thoroughly and can encourage you in your learning.
What sort of skills or concepts am I able to work on with High Point tutors near me?
There are High Point tutors available to help with a number of age levels and subjects. For example, students at schools such as Friendship Elementary School or Brown Summit Middle School can learn about reading, math, language, and other key subjects for students of their age. Those at the Early College at Guilford can prepare for chemistry, physics, history, and literature in ways that address their current challenges and prepare them for future academic situations. If you attend college, you can receive help for courses that fall within your degree program or elective courses.
How can High Point tutoring near me help me to get ready for a standardized test?
Standardized exams can appear at a variety of junctures in your life. One of the most common times to encounter standardized tests is during the college application process. Local colleges or universities such as Guildford College or Laurel University may look at your score on the ACT or SAT as part of the admissions process. Because of the particular challenges of standardized tests, preparing for them effectively requires a unique set of skills. You and your High Point tutor can work on test-taking strategies that address the unique structure, time constraints, and kinds of questions that are on whatever exam you are preparing to take. These strategies can help you to progress through the exam more quickly while still answering questions effectively. Additionally, preparing test-taking strategies can increase your comfort with the content and skills required for the exam.
How can I register for High Point tutoring?
You are able to sign up for High Point tutoring via the internet or the phone. When you register, we will connect you to a mentor who fits your academic and logistical needs. There are mentors available to meet both online and in person. This creates a larger pool of tutors who can help you, and this also makes scheduling easier. Varsity Tutors can provide a way for you to meet with tutors in High Point as you prepare for a variety of situations. If you are interested in registering or if you have questions, contact an Educational Consultant.
Your Personalized Tutoring Program and Instructor
Identify Needs
Our knowledgeable directors help you choose your tutor with your learning profile and personality in mind.
Customize Learning
Your tutor can customize your lessons and present concepts in engaging easy-to-understand-ways.
Increased Results
You can learn more efficiently and effectively because the teaching style is tailored to you.
Online Convenience
With the flexibility of online tutoring, your tutor can be arranged to meet at a time that suits you.