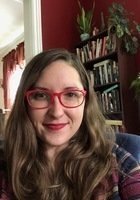 Britney: Albany tutor
Certified Tutor in Albany, NY
...and PhD in Communication and Rhetoric from Rensselaer Polytechnic Institute. I have experience tutoring students in writing and verbal communication, and I have taught undergraduate courses in the humanities and social sciences. I love working one-on-one with students and believe that learning is most effective when it's engaging and fun. My goal is to make myself obsolete! Our tutoring sessions will be geared toward both short-term and long-term goals, building the skills you need to...
Work With The Perfect Tutor For You
Our interview process, stringent qualifications, and background screening ensure that only the best tutors in Albany, NY work with Varsity Tutors. To assure a successful experience, you're paired with one of these qualified tutors by an expert director – and we stand behind that match with our money-back guarantee.
Receive customized Albany tutoring in the comfort of your own home or online at times that are convenient for you.
How much does a private tutor in Albany cost?
Just as your learning plan is personalized when you meet with a tutor, there is no one-size-fits-all cost. Factors such as your instructor's experience, how much material you want to cover in a given time, and whether you want to study in a completely one-on-one setting or invite a couple of classmates to join you can all have a role in pricing.
Because these different elements can play affect pricing, the best way to get a clear picture of what you can expect to pay is to contact Varsity Tutors directly online or over the phone. We will set you or your student up with a tutor in Albany in as little as 24 hours. Any learner can benefit from the assistance of a skilled instructor. While instruction in classroom settings can provide many benefits, tutoring allows you to learn in ways that are not possible in traditional settings. If your student needs to work with an Albany tutor as they attend the Montessori Magnet School or another local school, their mentor can focus on whatever material is most difficult for them. Likewise, if you are in the midst of a graduate program, a tutor can design a detailed plan so that you can use your study time as efficiently as possible. Our Educational Directors can learn about your goals for tutoring and give you a quote that reflects your situation.
How do I find a private tutor in Albany?
If you are looking for a tutor in Albany, you might consider conducting your own search. However, looking for a private teacher in Albany on your own could take a significant amount of time and effort.
Rather than going through the trouble of searching for candidates, conducting interviews, verifying references, and making sure schedules line up, let us do the work for you. We have a network of over 40,000 instructors that we can set up with learners of all ages and ability levels. Because of the resources at our disposal and our advanced tutor matching techniques, we will find a mentor for you who suits your academic and scheduling needs. We do more than simply look for a tutor who is available. We make sure that you study with someone who has the necessary knowledge and expertise to provide superb academic support.
If you attend a school like Albany High School, for example, we will look for a tutor who has experience working with high school students as well as the subjects or skills that are important to you. You might think that tutoring is only helpful for students who find class challenging. However, research shows that students of all ability levels can benefit from working with a private instructor. No matter how easy or difficult school is for you, a tutor can design a learning plan that helps you develop your skills in a systematic way. A great instructor can help you to maximize your opportunities.
What types of tutoring are offered in Albany?
No matter what you want to work on with a tutor in Albany, we can find someone who is able to help. If your student is homeschooled, we will find a private teacher in Albany who can augment what they are learning already.
They can help your student in areas where you are not able to teach with as much expertise, or the tutor can simply help your student improve key academic skills and competencies. An instructor can design sessions in ways that complement the work your student does in a learning pod, and if your student attends in-person school part time, a mentor can provide whatever support is needed. Our Learning Lab is a portal where your student can take assessments to evaluate their progress, work on practice problems, and watch helpful videos that explain key concepts in accessible ways.
If you attend an institution like the University at Albany, there are instructors available to help with subjects from physics to European history to computer science. They can guide you through course content and fill in any gaps you might have in your understanding. They are able to help you organize your notes and develop other key study skills as well. Additionally, if you want to support your tutoring with small group classes, that option is available too. If you need help with a standardized exam such as the SAT, GMAT, or an AP test, a tutor can help you prepare in a methodical, thorough fashion. Beyond making sure that you understand the relevant content, a mentor can help you develop strategies to address the specific format and timing challenges of a specific test. These strategies can help you to move through the exam more quickly while still maintaining your accuracy.
How qualified are tutors in Albany?
Every tutor in Albany that we match with students has passed through a comprehensive screening process. We want students to experience the best possible instruction, so our vetting process is intended to select only the best available mentors.
When you or your student work with an Albany tutor, you can be confident that they possess excellent knowledge of the material, a friendly personality, and skills and experience teaching the content in a variety of effective ways. Because no two students have the same learning needs, it is essential that the tutor know how to tailor their instruction to how you learn best. A qualified mentor can teach in ways that your learning style without having to accommodate other students.
Whether your student attends an institution like William S. Hackett middle school, or you are seeking a professional certification, a great instructor can make a difference. Varsity Tutors believes that every student can benefit from the expertise, guidance, and support of a tutor. If you want to learn more about the tutoring process or how to sign up, reach out to us today. Our Educational Directors can address your questions or concerns and get you started on the registration process. We hope to hear from you soon.
The Albany School System
Albany, New York, is the state capital and part of Capital District which is the cultural and economic core of New York. The area's roughly 9,000 students are served by the City School District of Albany, which consists of 17 public schools and learning centers as well as seven charter schools.
Working with a personal tutor can provide your child with many benefits as they move through their academic career. Varsity Tutors can help you connect with professional tutors in Albany, no matter which school your child attends.
Choosing the right high school can be a big decision. Sometimes it's helpful to look at how the schools in your area compare to other schools in the state. Below you will find a chart that can give you a better picture of how well the schools in Albany prepare students for exams in comparison to schools in other parts of the state.
One of the ways a personal tutor can help your child is with preparation before a national standardized exam such as the ACT or SAT. However, in the state of New York, children also face state regulated standardized exams beginning in the third grade. Between grades three and eight, students will be tested yearly in mathematics and language arts. They will also be tested in science and social studies twice.
Once Albany students reach high school, they will face a series of Regents exams. These exams are among the most difficult in the country. A personal tutor can help your child prepare for their exams and reach their academic potential. We have compiled data from Albany schools below, so you can see how well various high schools in your area are preparing their students.
Albany High School Rankings
| High School | Albany Ranking | State Ranking | AP Pass Rate |
| --- | --- | --- | --- |
| Albany High School | 1 | 411 | 49% |
| Green Tech High Charter School | 2 | N/A | 20% |
| Albany Leadership Charter High School for Girls | 3 | N/A | N/A |
| Tech Valley High School | 4 | N/A | N/A |
No matter which Albany high school your child attends, they will be in a classroom with at least a dozen other students. While this is considered a low class size, even under the best possible circumstances your child will have to share the attention of their instructor with plenty of other students at any given time. Below you can see just how many students are in the average classroom of the Albany high schools.
Albany Student-to-Teacher Ratios
Albany High School has a 16 1 student-teacher ratio.
Green Tech High Charter School has a 11 1 student-teacher ratio.
Albany Leadership Charter High School for Girls has a 11 1 student-teacher ratio.
Tech Valley High School has a 54 1 student-teacher ratio.
New York State Average has a 14 1 student-teacher ratio.
Working with a private tutor gives your child an academic advantage. They have the exclusive attention of an experienced instructor who can take the time to get to know them. As a tutor works with your child, they will begin to identify academic strengths and weaknesses. These tendencies can help the tutor tailor their approach to assist your child more efficiently and effectively.
While many parents are aware that tutoring is available for children in elementary, middle, and high school, older students may not be aware of the advantages of working with a tutor themselves as they move through college. A professional tutor can assist you or your child with challenging coursework and help students develop stronger learning skills.
There are many Albany tutors available to help you or your child in a wide variety of subject areas at any of the nearby colleges. Below you will find some of the top universities in the Albany area.
Albany University Rankings
| College | National Rank | Acceptance Rate |
| --- | --- | --- |
| Rensselaer Polytechnic Institute | 72 | 44% |
| Skidmore College | 106 | 28% |
| Union College - New York | 142 | 37% |
| University at Albany - SUNY | 439 | 54% |
| Albany College of Pharmacy & Health Sciences | 457 | 69% |
| Siena College | 556 | 73% |
| The Sage Colleges | N/A | 57% |
| The College of Saint Rose | N/A | 84% |
| SUNY Empire State College | N/A | 81% |
| SUNY College of Agriculture & Technology at Cobleskill | N/A | 78% |
How Varsity Tutors Can Help
When a child needs extra help at school, it can be difficult for parents to know what to do. Varsity Tutors makes it easy for parents and students to connect with experienced Albany tutors who can work with students face-to-face in person or through a secure online learning environment. Contact Varsity Tutors today to get started.
Your Personalized Tutoring Program and Instructor
Identify Needs
Our knowledgeable directors help you choose your tutor with your learning profile and personality in mind.
Customize Learning
Your tutor can customize your lessons and present concepts in engaging easy-to-understand-ways.
Increased Results
You can learn more efficiently and effectively because the teaching style is tailored to you.
Online Convenience
With the flexibility of online tutoring, your tutor can be arranged to meet at a time that suits you.
Session Summaries by Tutors